PEOPLE DATA
Global population data to power your analysis
Take your demographics intelligence from raw to refined with ThinkData Works. Go from scattered datasets from dozens of portals to a single source of truth for demographics intelligence in your preferred regions and topics of focus.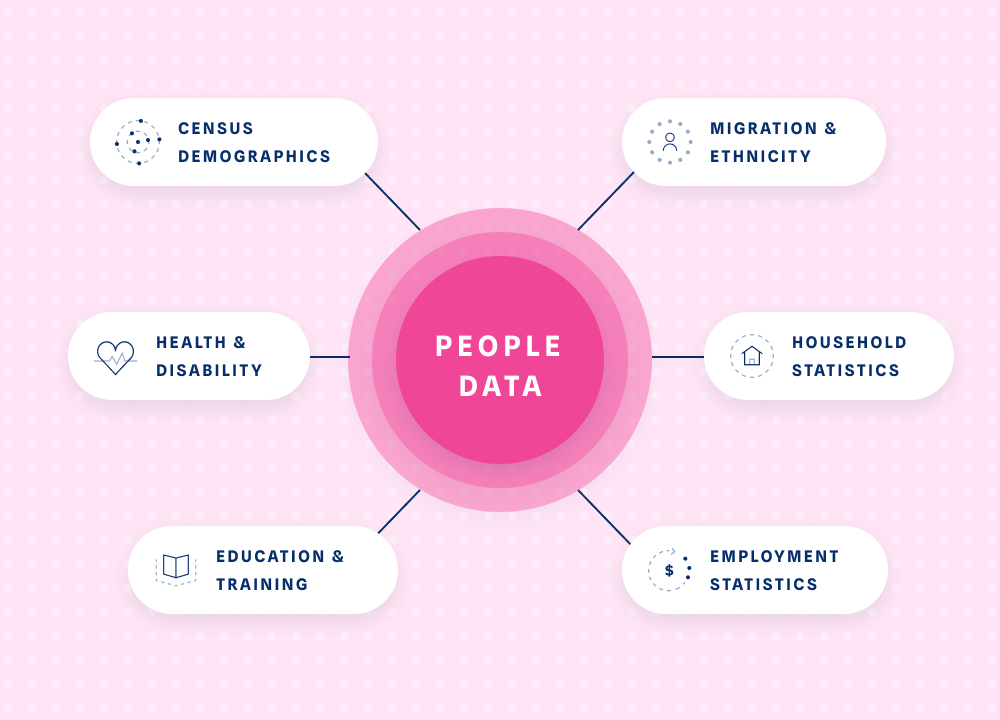 BENEFITS
Standardized and privacy-compliant demographics data for reliable insights
Ultimate coverage
A world's worth of standardized, enriched, and privacy-compliant people data, right at your fingertips.
40+
COUNTRIES ACROSS THE GLOBE, INCLUDING USA, CANADA, UK, AUSTRALIA, CHINA, BRAZIL, AND MORE
6+
DATA FEATURE GROUPS INCLUDING DEMOGRAPHICS, MIGRATION, HEALTH, EMPLOYMENT, AND MORE
USE CASES
Real-world data, real-world results
Accurate. Efficient. Easy. See how our people data can improve outcomes and drive results:
Clinical trial site selection
Pharmaceutical companies need specific populations to ensure optimal and balanced results in drug and treatment trials. People Data reveals key and standardized ethnographic details for populations around the world.
Automated approval processes
Insurance, loans, and leases all need approval — a process rife with manual work. Financial, health, and geospatial information layered into a single data product moves the needle ahead in approval automation goals.


Make the most out of your data investments
Acquiring data is just the first step. In this guide, learn how to build a strategy around your data and maximize your data ROI.
Do more with project-ready data
ThinkData Works delivers enterprise-grade data feeds to some of the world's largest organizations in consulting, pharmaceutical, and banking. Book time with our data experts to get powerful and refined insights.