The real value of data in your organization
The Activity Dashboard, built directly in your catalog, turns data use into actionable insights.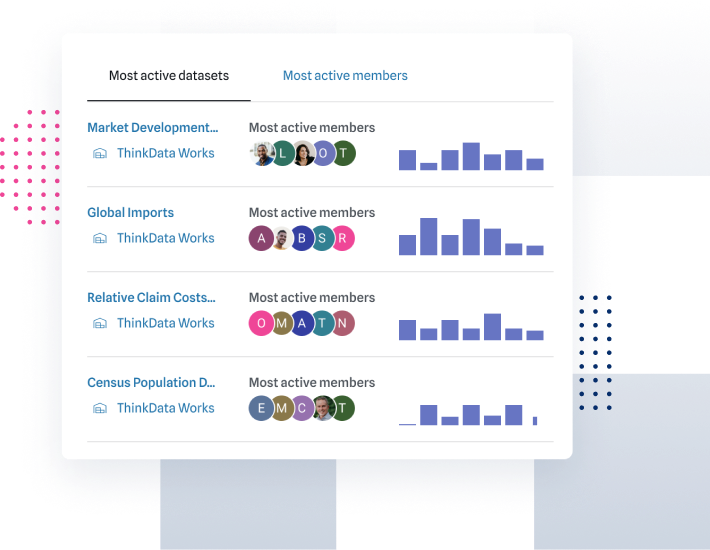 Critical intelligence at your fingertips
The Activity Dashboard gives you a comprehensive view of your data environment. Understand your most valuable data assets and how they're used.
Data usage intelligence
Understanding data's value means knowing how it's used
FAST FACTS
What's the return on your data investments?
81%
of companies are increasing the amount they will spend on data year-over-year
78%
of companies are unable to quantify the value of data within their organization
IMPROVE DATA TRANSPARENCY
Tell the story with interactive data visualization
No more gambling on data
The Activity Dashboard empowers decision makers, and equips them with the necessary information to make informed choices when it comes to data purchases.
Stamp out inefficiencies
Do you know how many datasets you're not making use of? It's a higher number than you might want to believe. Separate the data you need and the data you don't.
Clearer paths to revenue
By tying data to projects and exploring the Activity Dashboard, it becomes easy to understand which initiatives are paying off. Quantify ROI like never before.
Ensure compliance, always
A running record of the way data is used means avoiding serious fines and strengthening trust amongst your consumers, clients, and partners.
INTUITIVE INTERFACE
Usage insights — faster & easier
Whether it's an overview or a thin slice, our dashboard lets you see it all
Activity feed
An at-a-glance view of the moves your teams and data are making.
Super stats
Get the numbers on activity on any filtered view of your usage data.
Leading the pack
See which data and members are the most active in your organization.
SMARTER OPERATIONS
Data (value) discovery
Need to see for yourself?
Find out just how powerful our Activity Dashboard is. Book a demo to see it in action and learn how you can improve the return on your data investments by gaining new, critical data insights.