Data lineage solutions for a clear view
Trace data's path from raw to refined, map relationships for greater transparency, and get critical information from error reporting.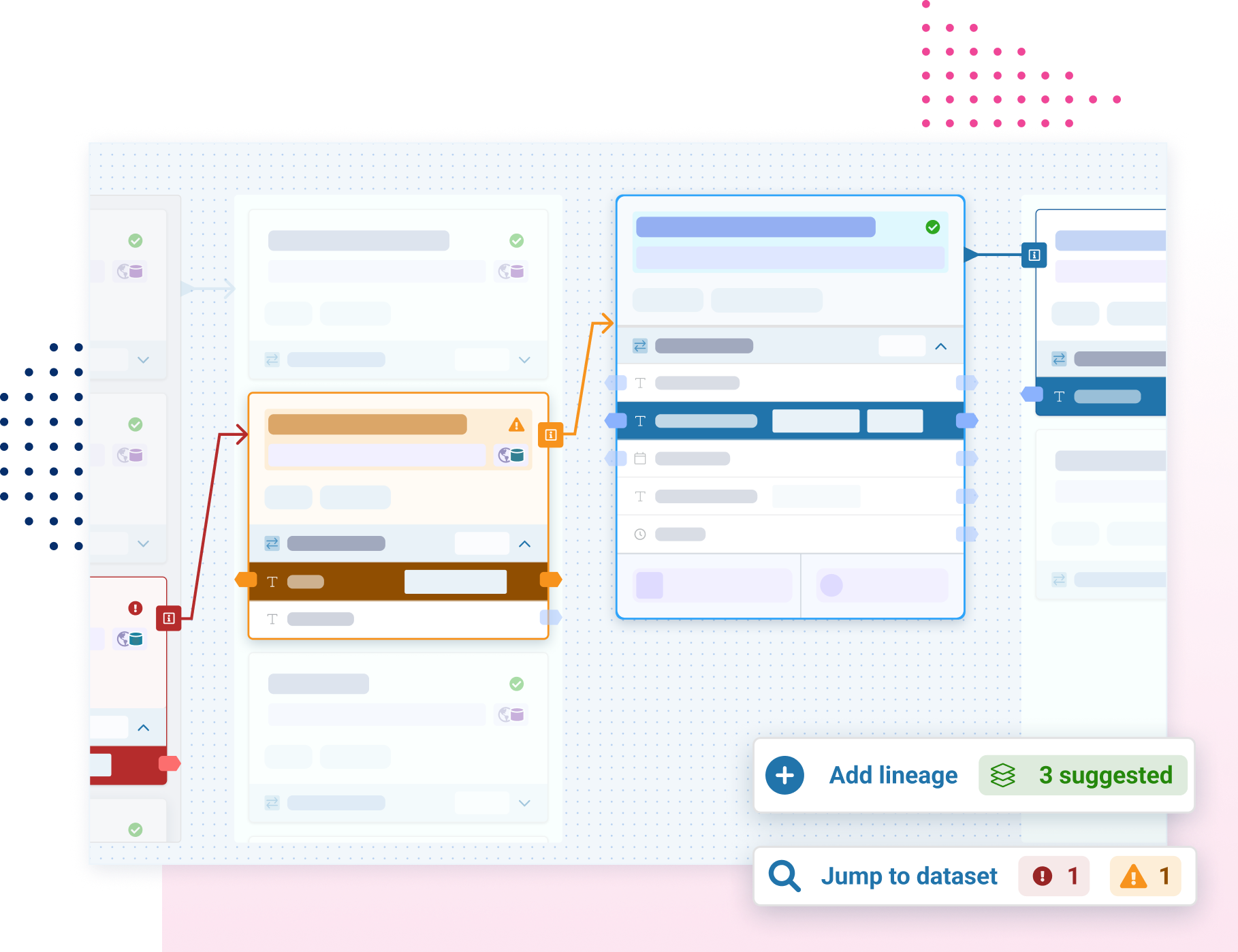 Column-level details on data from source to solution
Watch the video below, and see in less than one minute how fast and easy it is to understand your data better:
LIFECYCLE VISBILITY
Review, target, and manage linked datasets with ease
Data quality and trust
Lineage from ThinkData Works consistently improves your data's value:
Ensures data accuracy and integrity, no matter the source
Enables identification and resolution of data issues
Enhances confidence in data-driven decision making
Compliance and auditing
Avoid costly fines and create repeatable processes for better governance:
Enables traceability and accountability of data for compliance purposes
Facilitates auditability and regulatory reporting
Helps organizations meet data governance and privacy requirements
Data governance
Simplified governance is just one benefit of adopting a platform with data lineage:
Supports data lifecycle management from creation to retirement
Facilitates data lineage mapping from multiple sources without ETL
Enables data discovery, lineage visualization, and impact analysis
Fast Facts
The changing data landscape
70%
OF COMPANIES WILL FOCUS ON SMALL AND WIDE DATA BY 2025
↓9%
COMPANIES WHO HAVE SOUND DATA TRUST PRACTICES IN PLACE (YoY)
PRACTICAL INSIGHTS
Get value from direct and detailed lineage
Upstream and downstream
Look in any direction to find connections among your datasets. Get a holistic picture of relationships and your ecosystem to understand data's components.
Focused for clarity
Seeing a knowledge graph is fun — but its utility is limited. Our approach to lineage allows you to key in on specific data to find where it comes from and where it's going.
Data compliance
More and more companies list lineage as an absolute must-have feature for internal policies and government regulations.
Find issues faster
Getting visibility into data means any error is surfaced immediately. See how upstream integration issues propagate to analysis and modelling.


Don't know where to start?
Here's a handy guide that lays the foundations for getting the most out of a data catalog in any organization.
UNIQUE APPROACH
Why ThinkData Works?
We offer unique value to companies who need data lineage embedded in their operations:
Transformation transparency
We prioritize the relationships between datasets to help you see every link in the chain.
Lineage for any source
You don't have to use our (top-tier) ETL to get lineage. Map data from any source or warehouse.
Streamlined user experience
An interface designed for humans, with a backend robust enough for companies of any size. We give you the best of both worlds.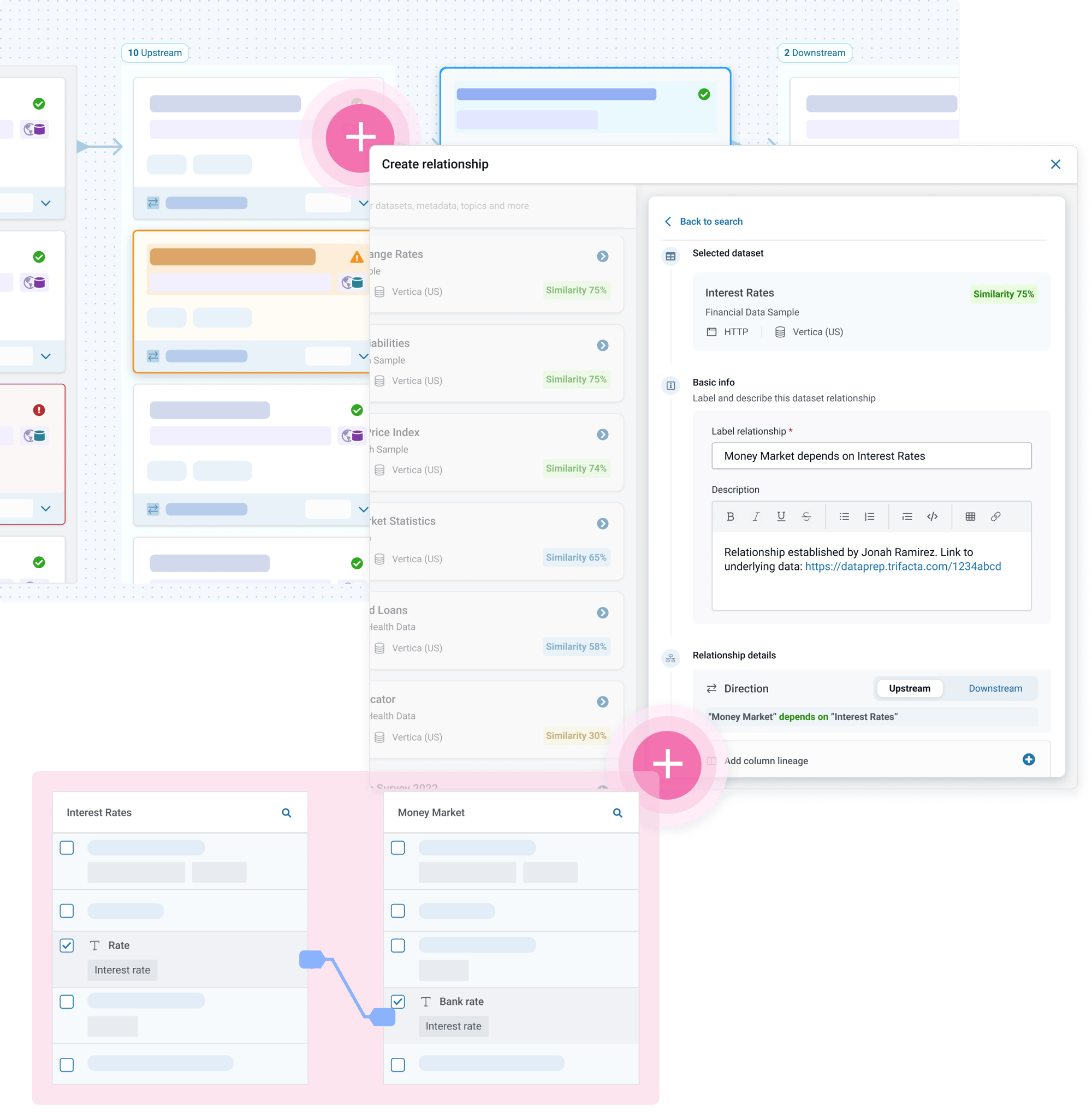 Better visibility, better results
Prepare to get better results and greater value in less time
Let us help you optimize your data operations
Adding visibility without adding complexity — sound like a pipe dream? Let us show you how easy it could be. Request a demo from ThinkData Works today.